• Thomas Sadoski is an American actor, born in New Haven, Connecticut in 1976.
• He is married to American actress and musician Amanda Seyfried.
• He has appeared in over 33 plays, 35 movies and TV series, and various TV specials.
• He has won a Lucille Lortel Award and an Obie Award for Distinguished Performance by an Actor, and a Satisfied Eye International Film Festival Award for Best Supporting Actor.
• He is a philanthropist, human rights activist and a board member of INARA.
Who is Thomas Sadoski?
Thomas Christian Sadoski was born in New Haven, Connecticut USA, on 1 July 1976 – his zodiac sign is Cancer and he holds American nationality. He's an actor who's probably still known best for his portrayal of Chris, one of the lead characters in the 2000 romantic comedy movie "Loser", written and directed by Amy Heckerling, and which also starred Jason Biggs and Mena Suvari. It follows a college student who has been branded a loser, and who's in love with another student while she's in love with a professor. This was also Thomas' debut film appearance.
He's also known for being the husband of Amanda Seyfried, a famous American actress and a musician.
Early life and education
Thomas was raised in New Haven by his parents Mark and Carol Sadoski, and as he hasn't spoken of having any siblings, it's widely believed that he's an only child.
He became interested in acting while attending a local high school, and appeared in various plays performed there; Thomas was also quite sporting, as he played soccer and lacrosse. Upon matriculating in 1994, he enrolled at the University of North Texas, but at which he stayed for only half a year before transferring to the Circle in the Square Theatre School in New York, from which he obtained his Bachelor of Arts degree in 1988.
Roles in theatre plays
Thomas has appeared in over 33 plays, making his debut performance in "This Is Our Youth" performed at McGinn-Cazale Theatre in New York. A couple of his following notable performances were in the 2000 "The Hot I Baltimore", the 2001 "Street Scene", and the 2004 "Reckless", which was his Broadway debut.
The year 2006 saw him portray Crumpet in "The Santaland Diaries", and in 2009 he played Greg in the Broadway play "Reasons to be Pretty", which was its writer Neil LaBute's Broadway debut.
A couple of Thomas' most recent roles in plays have been in the 2018 "Belleville", the 2019 "White Noise" followed by "Grand Horizons" in the same year.
Roles in movies
Thomas has been credited with appearing in around 35 movies and TV series. 2003 saw him play Scott in the comedy drama "Happy Hour", while a couple of his following roles were in the drama "Winter Solstice" and the  war drama "Company K" both in 2004, and the 2008 drama "The New Twenty".
Thomas eventually gained recognition in 2014, with his portrayal of Devon in the romantic comedy drama "Take Care", written and directed by Liz Tuccillo, and which starred Leslie Bibb, Kevin Curtis and Nadia Dajani. It follows the life of a woman who has just been hit by a car, and has learned that her friends don't want to take care of her.
The year 2014 also saw Thomas play a supporting character in the critically acclaimed biographical adventure drama "Wild", which starred Reese Witherspoon, Laure Dern and Gaby Hoffmann, and follows a woman who has embarked on a 1,100 mile long hike because of a recent family tragedy; the movie won 13 of the 82 awards for which it was nominated, including two Oscar nominations.
The following years saw Thomas appear in a few more hit movies, such as the 2014 action crime thriller "John Wick" (as well as its 2017 sequel), the 2015 drama "I Smile Back", and the 2017 comedy drama "The Last Word". His most recent movie role has been his portrayal of Greg in the 2020 comedy drama "Killing Eleanor" which failed to attract any attention. Thomas is currently shooting for three upcoming movies: the war drama "Devotion", the drama "The Last Weekend in May", and the comedy "Jill Takes a Break".
It has also been announced that he will be starring in the upcoming romantic comedy "Lemonade".
Roles in TV series
Thomas made his debut TV series appearance in 2005, with his portrayal of Robert Barnes in the episode "Criminal Law" of the mystery crime drama "Law & Order". In 2007, he played Jesse Calhoun in eight episodes of the romantic drama "As the World Turns", which aired from 1956 to 2010, and counted 3,625 episodes.
The following years saw him appear in an episode or two of various series, including the mystery crime drama "Law & Order: Criminal Intent" and the romantic comedy "Ugly Betty" and in 2012, he was cast to play the supporting character Don Keefer in the drama "The Newsroom" created by Aaron Sorkin and which starred Jeff Daniels, Emily Mortimer and John Gallagher Jr. It follows the lives of newly employed people in a newsroom, aired from 2012 to 2014, and the series won nine awards of the 42 for which it was nominated, including two Golden Globe nominations.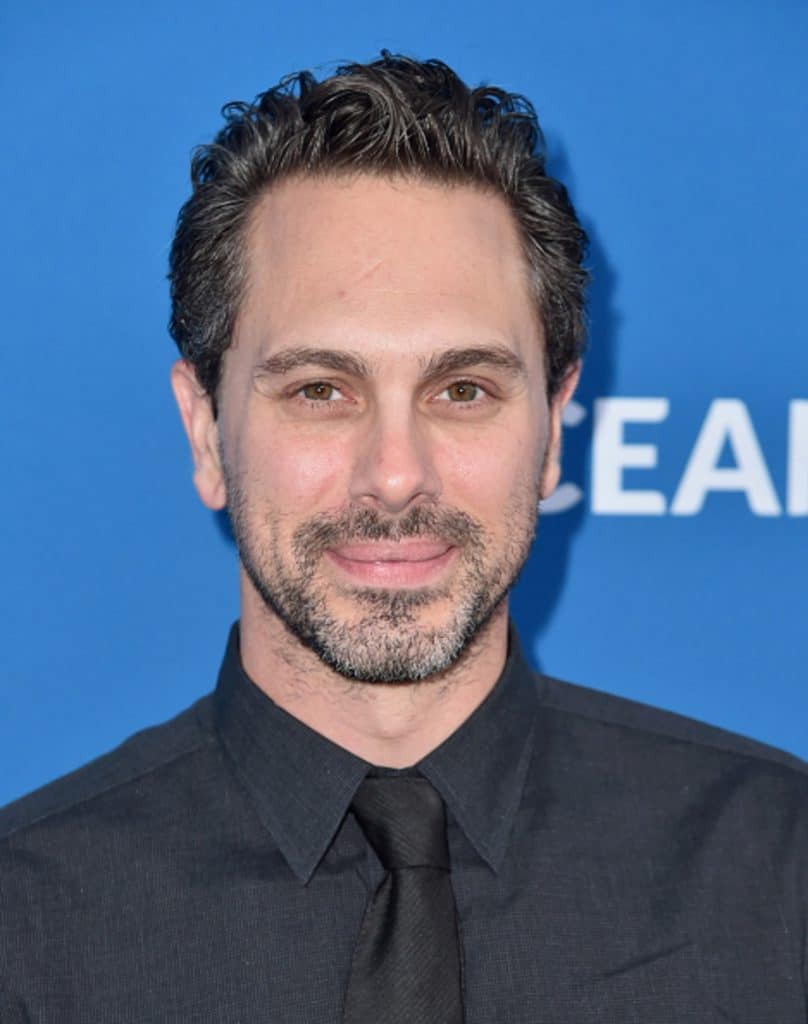 Three of Thomas' most recent roles in TV series have been in eight episodes of the 2015 drama "The Slap", all 70 episodes of the comedy "Life in Pieces" in which he starred alongside Colin Hanks and Betsy Brandt from 2015 to 2019, and nine episodes of the 2020 drama "Tommy".
Other credits
Thomas has been featured in various TV specials, such as the 2009 "The 63rd Annual Tony Awards", the 2015 "The 69th Annual Tony Awards", and the 2019 "The 13th Annual CNN Heroes: An All-Star Tribute".
He has made a guest appearance in many talk-shows too, including "The Late Show with Stephen Colbert", "The Late Late Show with James Corden", and "Entertainment Tonight".
Awards and nominations
In 2011, he won a Lucille Lortel Award for Outstanding Featured Actor in a Play as well as an Obie Award for Distinguished Performance by an Actor, both for his performance in the play "Other Desert Cities".
In 2019, Thomas won a Satisfied Eye International Film Festival Award for Best Supporting Actor for his performance in the short comedy movie "Holy Moses".
Love life and marriage with Amanda Seyfried
In the early 2016, Thomas began dating Amanda Seyfried, and they could've been seen attending various events and parties together. It was announced on 12 September 2016 that the two had becoame engaged, and on 12 March 2017, they exchanged vows in front of their closest friends and family members. Nine days after the wedding ceremony, Amanda gave birth to their daughter Nina, and in September 2020 to their son. As of May 2021, the family of four seems to be leading a happy life together.
Thomas was married once before meeting Amanda. On 2 July 2006 he married Kimberly Hope, but the two divorced on 14 December 2016 following a one-year separation. Prior to meeting Thomas, Amanda dated the British actor Dominic Edward Cooper, and the American actor and comedian Justin Jacob Long.
Hobbies and other interests
Thomas is a philanthropist, and has worked with various charity and non-profit organizations, while he's mostly focused on contributing to the organization INARA; he's also its board member. Thomas is a human rights activist too, and today supports the movement Black Lives Matter, and has walked several peaceful protests.
He's passionate about travelling, and his acting career has taken him to many US states, while he has also travelled overseas to France, Belgium and England.
Thomas is a lover of animals, with lions being his favorites.
In his spare time, he enjoys watching movies starring his favorite actor and actress Tom Cruise and Angelina Jolie, such as "The Last Samurai", "Top Gun", and "Mr. and Mrs Smith".
Age, height and net worth
Thomas' age is 44. He has short brown hair and brown eyes, his height is 5ft 11ins (1.8m) and he weighs around 172lbs (78kgs).
As of May 2021, his net worth has been estimated at over $4 million, while Amanda's net worth is reputedly over $12 million.
Who is Amanda Seyfried?
Amanda Michelle Seyfried was born in Allentown, Pennsylvania USA, on 3 December 1985 – her zodiac sign is Sagittarius and she holds American nationality. She has been credited with appearing in over 60 movies and TV series, and has won 12 awards of the 71 for which she has been nominated, including a nomination for a 2021 Oscar for Best Performance by an Actress in a Supporting Role in the biographical comedy movie "Mank".
A couple of her performances for which she's known best have been in the 2008 romantic musical comedy movie "Mamma Mia", the 2010 romantic mystery film "Dear John", and the 2012 historical musical movie "Les Miserables".
She was raised in Allentown alongside her older sister Jennifer, by their father Jack who was a pharmacist, and their mother Ann (nee Sander) who was a therapist.
Amanda studied at William Allen High School ,and upon matriculating in 2003, enrolled at Fordham University, but from which she dropped out to focus on her acting career.
She launched her career as a model when she was 11 years old, but stopped modelling at the age of 17. One of Amanda's first TV roles was in the soap opera "Guiding Light", while she gained recognition with her portrayal of Karen Smith in the 2004 teen comedy movie "Mean Girls". A couple of her following roles were in the 2005 crime drama movie "American Gun", the 2009 horror comedy movie "Jennifer's Body", and later that year in the erotic thriller movie "Chloe". She continues acting to this day – one of her most recent roles has been in the 2020 computer-animated mystery comedy movie "Scoob!", in which she voiced Daphne Blake.
Amanda has revealed that she's suffering from anxiety, panic attacks and obsessive-compulsive disorder.
She's also a board member of INARA.